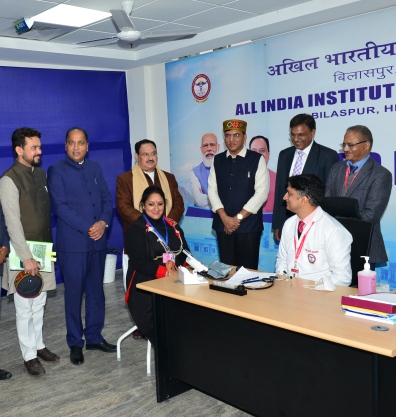 National president of BJP Jagat Prakash Nadda said, "The All India Institute of Medical Sciences (AIIMS) Bilaspur would become fully operational within next six months and people of the state and this region would be getting highly specialized medical facilities within the state."
Opening OPD facility at the AIIMS Bilaspur and facilitation ceremony of COVID workers on achieving cent percent target of COVIID vaccination in the state on Sunday Nadda said, "The setting up of AIIMS outside Delhi was envisioned by Prime Minister Narender Modi as first such institution was opened way back in 1960 in Delhi and now 22 AIIMS are being established in the country. "
He said, "The foundation stone of the AIIMS Bilaspur was laid three years back by the PM and this would have become operational a year ago but was delayed due to COVID situation; in addition to this the state also got Satellite Center of PGIMER at Una, being established with the cost of Rs 500 crores."
Nadda said, "Even advanced nations like the US have failed to tackle the COVID pandemic but 130 crore population of India under PM Narender Modi has succeeded in checking the pandemic through vaccination campaigns and 127 crores doses have been administered, besides supplying vaccine to fifty other countries."
 Congratulating the HP government, doctors, health care workers and frontline workers for achieving unique feat of cent percent vaccination of adult population in the state he said , "  Due to their dedication and commitment the state has emerged as a pioneering state in vaccination drive and the state has become frontrunner in education, health and social sector."
Earlier, JP Nadda , Union Health Minister Mansukh Madaviya, Chief Minister Jai Ram Thakur, Union Information and Broadcasting Minister Anurag Thakur dedicated the OPD of the AIIMS Bilaspur at Kothipura . Rekha from Kullu district was the first patient diagnosed here by Dr Kapil Sharma.
Speaking on the occasion Union Health Minister Mansukh Mandaviya praising the state for successful vaccination drive said, "The AIIMS Bilaspur is a big gift to the state and today power of Indian brains has been recognized by the world as three out of top ten scientists of NASA are from India, medicines like azinomycin and remdesivir manufactured in India were supplied to 100 countries to tackle the COVID virus."
Addressing on this occasion Chief Minister Jai Ram Thakur said, "A new milestone has been set with opening of the OPD at AIIMS Bilaspur and this would go a long way in providing best health services to people of the state as super specialties here would benefit lakhs of people."
Thanking the PM for the AIIMS Bilaspur, Thakur said, "The state is grateful as a small state like HP has been given preference in allotting an AIIMS here and praised JP Nadda as he has been instrumental in establishing the institute."
The CM also lauded the role of doctors, health workers, ASHA workers who worked round the clock for administering cent percent vaccination doses in the state braving geographical and weather barriers and even airlifting the vaccines to remote areas of Bara Bangal , Dodra Kawar and Malana .
Union Minister of Information and Broadcasting Anurag Thakur in his address also congratulated the state for vaccinating the targeted adult population of 53.77 lakh and lauded the NDA government for taking effective steps to check the pandemic.
The state health minister Dr Sehzal and Food and Civil Supplies Minister RK Garg also addressed on this occasion. Several other ministers, MPs, MLAs and other dignitaries were present on this occasion.