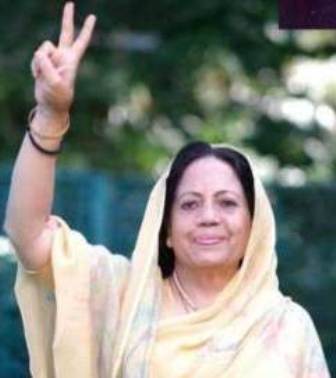 In a major jolt to Chief Minister Jai Ram Thakur and ruling party BJP in the state, Congress candidate Pratibha Singh defeated BJP candidate Brig. Khushal Thakur (retd.) by 8766 votes in by-election for Mandi parliament seat, results for which were declared on Tuesday after counting of votes.
Pratibha Singh secured 3, 69,565 votes against 3, 62, 075 votes polled by BJP candidate Brig. Khushal Thakur (retd) ,in addition to 1276 postal ballots.
It would be a surprise comeback for two times former MP Pratibha Singh to the parliament,who was defeated by Ram Swaroop Sharma of BJP during 2014 parliament election.
The win in this election is very important for Pratibha Singh since she was contesting this election in the absence of her husband six time former Chief Minister late Virbhadra Singh after his demise on July 8. Her victory is quite significant since BJP had won the seat in 2019 parliament election by over 4 lakhs votes. Even in the last Assembly election in 2017 BJP had won nine out of ten Assembly seats of Mandi district and Congress had lost all ten. Mandi was also given the post of the CM and Jai Ram Thakur had become the CM.
The election results are a setback for Chief Minister Jai Ram Thakur as the BJP not only lost the Mandi parliament seat in CM's home district but also other three Assembly seats which also went to polls.
In Arki Assembly constituency Congress candidate Sanjay Awasthi has defeated BJP candidate Rattan Singh Pal by 3466 votes. Sanjay Awasthi (Cong) polled 27705 and Rattan Singh Pal (BJP) polled 24239 votes.
In Jubbal Kotkhai Congress candidate Rohit Thakur defeated rebel BJP and Independent candidate Chetan Bragta by 6297 votes. In a major setback BJP nominee Neelam Saraik forfeited her security deposit here.
Similarly, in Fatehpur Assembly constituency Congress candidate Bhawani Singh Pathania defeated BJP candidate Baldev Thakur by 5634 votes.