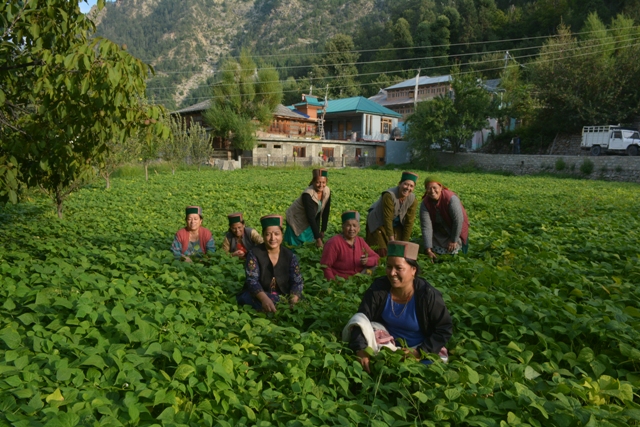 While farmers in many parts of Himachal Pradesh are continuing with traditional pattern of agriculture the tribal women from remote parts of Kinnaur district have become role model for others by adopting natural farming and increasing their income from farm produce manifold.
Charna Devi, 49, a woman farmer from Chagaon village uphill Tapri in Kinnaur has been contributing significantly in agriculture fields all through. Life was just run-of-the mill for this little educated tribal woman as she worked from hearth to the field almost unnoticed.
It was launching of Prakritik Kheti Khushhal Kisan Yojana (PK3Y) in Himachal in 2018, which proved a turning point for her when she was picked up for a exposure visit to Kurukshetra along with other farmers to learn techniques in natural farming.
Sharing her experience she said, "I never thought of traveling beyond Shimla but this visit changed my outlook towards agriculture as I learnt new techniques of natural farming and after coming back we formed a farmers' group in our village as part of PK3Y and also became a motivator."  
The group with 20 women farmers have adopted a low cost, non-chemical and climate resilient Subhash Palekar Natural Farming (SPNF) technique (being promoted under PK3Y) and cultivated apples, rajmash, garlic, maize and traditional crops like Ogla ,phaphra and Koda.
Another member of the group Prem Pyari said, "We are now helping each other like a family, preparing jeevamrit, ghnjeevamrit, besides motivating other women by finding solution to personal and social issues."
Chagaon is not just one instance of the pleasant change the PK3Y is bringing in the lives of women farmers in the state with a focused approach. Apart from individual women farmers, the effort is being made to encourage the women to take up natural farming collectively for better results across the state.
The knowledge imparted to the women farmers and their capacity building through trainings, exposure visits to other farms under PK3Y is doing more good to them than just providing them the option of healthy and sustainable agriculture for livelihood. The knowledge has visibly instilled confidence in women farmers in totality and has led to their inclusion in decision making at home.  
Executive Director of the PK3Y Dr Rajeshwar Singh Chandel said," "Women have an important role in agriculture and their inclusion in natural farming as trainers and master trainers will certainly giving good results as over 1.5 lakh farmers have been trained."
Another woman Jaswinder Kaur from Kanshipur of Paonta sahib is growing nearly twenty fruits and vegetables through natural farming and also marketing her produce by using social networking sites Whatsapp and Facebook.
At many places, the groups of women groups are collectively making pickles, chutneys, garlands etc to supplement their income.
( Contributed by Archna Phul )