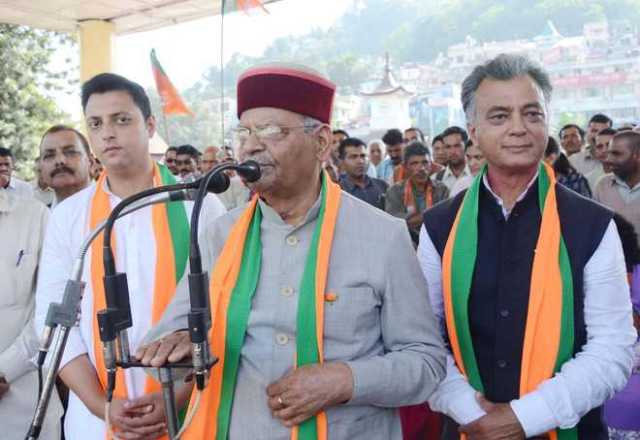 The politically significant Sukh Ram family, which has been influencing Himachal politics for long, is perhaps losing its bargaining power now due to its opportunistic politics.
Sukh Ram, once a stalwart of Congress politics is not active now due to his advancing age but has groomed his son Anil Sharma and grandson Ashrey Sharma into state politics.
Former powerful Union Minister for Telecommunication in PV Narasimha government Sukh Ram held important Cabinet portfolios in the state and the Central governments.
He had formed his own political party Himachal Vikas Congress (HVC) and become instrumental in forming BJP-HVC government in the state as his party held four MLAs required for getting majority in the hung Assembly after 1998 Assembly elections.
Sukh Ram was a pivot of BJP- HVC alliance government in the state as he secured ministerial berth for all HVC MLAs , a Cabinet rank post for himself and Rajya Sabha nomination for his son Anil Sharma. He was considered the most powerful man in the Dhumal government but when BJP managed a majority on its own after by-elections his party became irrelevant.
Before the next Assembly elections in 2003 he parted ways with the BJP and HVC could only win one seat and he merged HVC into Congress before 2008 Assembly elections and his son Anil Sharma was made minister in Virbhadra Singh government as he became ineligible to contest elections after his conviction in a corruption case related to a telecommunication scam.
He along with his son Anil Sharma, a cabinet minister in previous Congress government, had defected to BJP just before the last Assembly elections in 2017 giving a swear jolt to Virbhadra Singh government, when then CM Virbhadra Singh had termed the family "Aya Ram Gaya Ram" in a public meeting .
The family had bargained for a cabinet berth for Anil Sharma after the return of BJP government in the state taking credit for helping BJP in sweeping all ten Assembly constituencies of Mandi district.
For launching his grandson Ashrey Sharma in the electoral politics Sukh Ram again bargained for a BJP ticket for Ashrey Sharma from Mandi parliament seat with BJP leadership during 2019 parliament elections, but was not obliged.
Known for his manipulative politics and strong clout with Congress's top leadership Sukh Ram along with Ashrey Sharma defected to Congress and managed a Congress ticket for Ashrey Sharma from Mandi parliament seat then.
This put Anil Sharma in an awkward position as he was power minister in state BJP government and his son was a Congress candidate contesting against BJP's Ram Swaroop Sharma.
While holding Cabinet positions in Jai Ram government Anil Sharma did not campaign for the BJP candidate in the 2019 parliament election and was accused by BJP leadership for clandestinely helping Ashrey Sharma, later he was forced to resign from the Cabinet.
In the present by-election when Pratiba Singh was given Congress ticket ignoring Ashrey Sharma's claim, Anil Sharma has again started cozying up with BJP leadership and held a meeting with CM Jai Ram Thakur and has demanded his induction in the Cabinet in lieu for support for BJP candidate Khushal Thakur. Sources said, "He was planning defection of Ashrey Sharma to BJP to ditch Congress again."
On his demand Chief Minister Jai Ram Thakur said, "There is no vacancy in the Cabinet at present but I have assured him the party would watch his interests."
After plain speaking of BJP leadership Ashrey Sharma has started campaigning for Pratibha Singh and Anil Sharma is likely to wait for a few months more to part ways with the BJP and formally join Congress before the next Assembly elections in 2022.