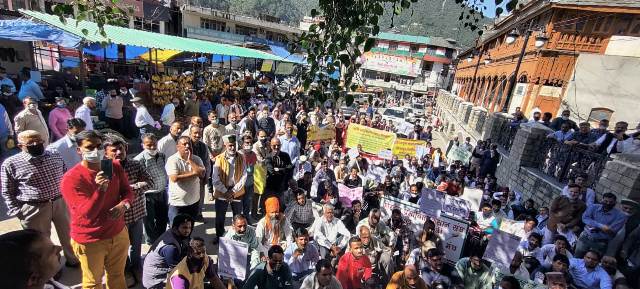 Several farmers' organizations and four lane affected families held a rally in Mandi on Friday to demand implementation of Land Acquisition Compensation Act 2013 in Himachal Pradesh.
The organizations from different parts of the state gathered at Seri Manch Mandi under the banner of Bhoomigrahan Prabhavit Manch and marched to DC office to submit a memorandum to Prime Minister Narendra Modi through Deputy Commissioner Mandi.
Before submitting the memorandum farmers from different organizations addressed the gathering in front of the DC office.
Addressing the gathering president of the Manch BR Kaundal said, "The state government is making excuses in implementing the 2013 Act when the Central government is ready to give four times compensation and rehabilitate the affected families but the state government is trying to defer the implementation by forming committees."
He said, "Several state governments like Bihar, Uttrakhand and Jharkhand have already implemented the Land compensation Act 2013 but Jai Ram led state government is acquiring land of farmers for peanuts."
The Manch also warned, "The state government should implement the compensation act immediately or they would be forced to intensify their agitation."
Convener of the Manch Joginder Walia said, "Twenty organizations attended the protest and it was addressed by CPM MLA Rakesh Singha, former MLA KK Kaushal, former Mayor of Shimla Sanjay Chauhan, Kissan Sabha leaders Kuldeep Tanwar, Kushal Bahrdwaj and Guman Singh from Himalaya Niti Abhiyan among others and raised different issues."