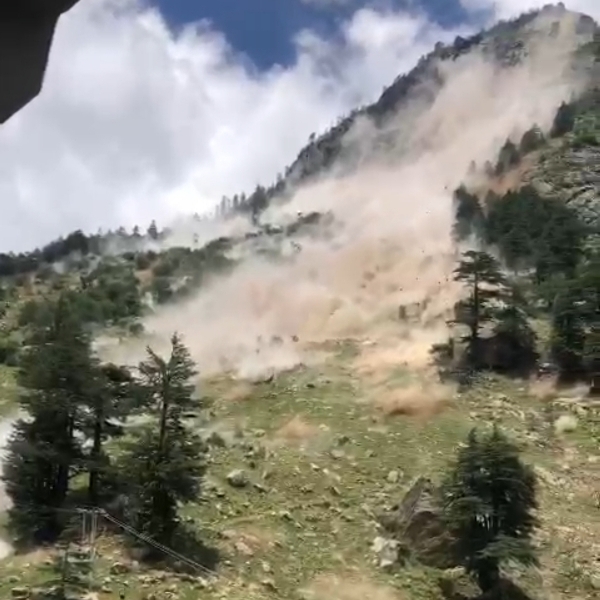 As the rescue teams are still trying to locate nearly two dozen people feared trapped in debris at Negualsari in Kinnaur district experts blame reckless blasting and climate change as triggers for the massive landslides in Kinnaur district.
Kinnaur district which is part of the Himalayas mountain range is quite prone to landslides and several massive landslides have occurred in the district. On July 25 nine tourists lost their lives at Batseri on Sangla road when a tourist vehicle was hit by huge boulders after a landslide.
In the recent incident on August 11 a HRTC bus carrying dozens of passengers, a Tata Sumo with eight passengers, a truck and other vehicles were buried under the debris of a massive landslide near Neugalsari on Shimla- Kinnaur road.
Sixteen people have lost their lives in this incident, 13 injured were pulled out by the rescue teams and search operation is still continuing to look for other trapped people.
Landslides in this region are quite frequent and several studies have also been undertaken to identify the causes since this is a matter of concern for local people, environmentalists and geologists
Ramamurthi Sreedhar geologist and his team from Environicsindia have done extensive mapping and survey of this region.
Talking about the main causes of landslides in Kinnaur district Sreedhar says, "The Himalayan range in Kinnaur is fragile and young and human activities like blasting, reckless cutting of vertical hills, cutting of trees, digging tunnels for hydro power projects are triggers for the landslides."
Large hydro power projects like Naphtha- Jhakri (1500 megawatt) , Karcham Wangtoo (1200 megawatt) , Rampur Hydro project (412 megawatt) , Baspa (300 megawatt) and Bhaba (120 megawatt) have come up in Kinnaur district . Several tunnels have been constructed by undertaking massive blasting. Jangi- Thopan (800 mgwt) is also coming up in the district.
Kinnaur region falls under category V of the seismic zone and has been termed as a fractured zone by Wadia Institute of Himalayan Geology Dehradun, quite prone to earthquakes. The mountains are also fragile and composed of huge sand.
Sreedhar says, "Reckless blasting to build hydro projects has fractured the mountains of Kinnaur and rain spells have also increased in this area and the state government should now put a complete moratorium on new power projects, existing roads should be well maintained instead of cuttings hills for widening roads, more trees should be planted and scientific approach should be adopted in saving the mountains."
He suggests, "Roads and other projects to compete with China should not be encouraged in this region since Tibetan Plateau and the Himalaya Plateau on the Indian side have entirely different topography and geological formations."
Organizations like Himalayan Niti Abhiyan, Him Lok Jagriti Manch, CPM and youths from Rarang, Murang, Akpa etc have also been opposing unscientific approaches in constructing hydro and other projects to save the ecology and environment of Kinnaur.