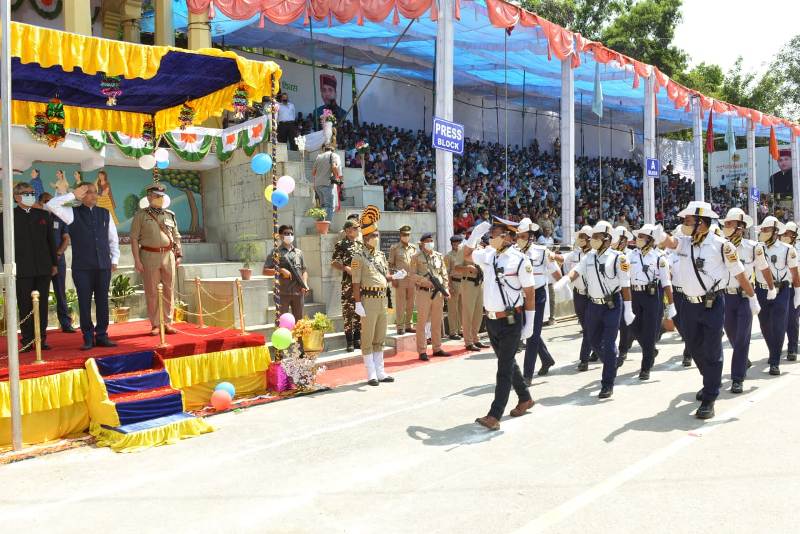 The 75th Independence Day, which is also being celebrated as Amrit Mahotsav, witnessed great enthusiasm, fervor and gaiety through-out the State on Indian Independence Day on Sunday.
The state level function was held at historic Seri Manch Mandi where Chief Minister Jai Ram Thakur unfurled the National Flag and presided over the funation. Functions were held throughout the state to mark the occasion.
The Chief Minister hoisted the national flag and took salute from the marching contingents of Police, Home Guards, SSB and ITBP.
Addressing the gathering on this occasion the CM announced to give six percent dearness allowance to the state government employees and the pensioners from July I, to give Rs 30 per liter subsidy on edible oils to BPL card holders and Rs 10 to APL card holders for the next four months.
Thakur also announced to give Rs 15 crores for Mandi Municipal Corporation for the development works.
He said, "For the last two years the whole world is fighting the COVID-19 pandemic but timely steps taken by the Central government headed by Prime Minister Narender Modi and economic package have helped in saving several lives, direct financial benefits and vaccination drive have also provided succor."
"The state government has tried to revive the state's economy by providing basic amenities to people and the state is also leading in vaccination drive and COVID management in the country through efficient work done by corona warriors during the pandemic."
Paying rich tribute to our freedom fighters and martyrs Thakur said, " On this day we must not forget the sacrifices of our freedom fighters and martyrs who have laid their lives for the country; it's a matter of pride for the state the first Param Vir Chakra of the country was bestowed on Major Som Nath Sharma and later Col. DS Thapa , Captain Vikram Batra and Rifleman Sanjay Kumar from Himachal also received PVC, besides earning several awards by our martyrs as thousands sacrificed their lives inspiring future generations."
Talking about various welfare measure taken by the state government the CM said, "After assuming power our government lowered age to 70 years for getting pension under social security scheme and increased the pension to Rs 1500 per month, elderly women between the age of 65 and 69 are being given Rs 1000 pension per month under Swarana Jayanti Nari Sambal Yojna and poor girls from BPL families are given Rs 31000 for their weddings under Shagun yojna."
He said, "The state government has started Jan Manch and Sewa Sanklap Helpline -1100 to establish direct communication with the public and to redress their grievances on the spot, given free gas connections to 3.17 families under Grihni Suvidha Yojna and to 1.36 lakh families under PM Ujawla Yojna, provided health cover through Him Care scheme to 5.13 lakh families and Rs 162 crores have been spent under the scheme so far."
" Mukhyamantri Swavalamban Yojana has been started to make the youth self-reliant for creating employment opportunities and Rs 122 crors's subsidy has been given under the scheme, besides launching several other welfare schemes", he added.
The Chief Minister also presented national health mission services award to the Information Technology Department and state rural livelihood mission award to BDO Gohar Nishant Sharma.
State Prerana Satrot Puruskar to Dr. R.K Pruthi and Satpal, Himachal Gaurav Puruskar to Subedar Sanjay Kumar, Subedar Major Balwant Singh, Kartar Singh and Rahul Raina were also given on this occasion, besides honouring players excelling in various sports.
He also honoured the sportspersons Ashish Kumar, Priynka Negi, Ritu Negi, Kavita Thakur, Ajay Thakur, Khila Devi, Diksha Thakur, Priynka Thakur, Jyotika Datta, Vikas Thakur and Coach Naresh Kumar.
Earlier, the Chief Minister paid tributes at the statue of Mahatma Gandhi and Shaheed smarak. A cultural programme was also organized on the occasion.
Jal Shakti Minister Mohinder Singh Thakur, Several MLAs and other dignitaries were present on this occasion.