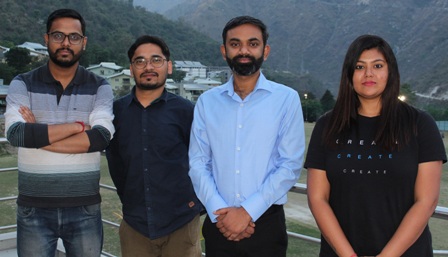 The researchers of the Indian Institute of Technology (IIT) Mandi have developed a virus-filtering, self-cleaning and antibacterial material for making face masks and PPE kits, reusable.
This material has been developed by Dr Amit Jaiswal, Assistant Professor in school of basic sciences along with his research associates Praveen Kumar, Ankita Sarkar and Shounak Roy.
The paper about their findings has been published in the Journal of American Chemical Society – Applied Materials & Interfaces, recently.
Telling about their findings one of the researchers tells, "Facemasks are proving helpful in checking spread of COVID-19 virus but it can be more efficacious if it could act as anti-microbial agent and kill pathogens, especially to address pollution and secondary infection for making it reusable."
Dr Jaiswal said, "We have developed a cost effective strategy by providing antimicrobial coating to the fabric used for making face masks and PPE kits and material used is hundred thousand times smaller than the width of a human hair for conferring antimicrobial properties which can be used in several ways."
He said, "Proper disposal of used PPE kits is a serious issue as it could be a source of transmission but antimicrobial technique can be of great help in tackling this problem."
The researchers have incorporated nanometer sheets of molybdenum sulphide, MoS2, the sharp edges corner of which act as tiny knives piercing bacterial and viral membranes and modified fabric demonstrate excellent antibacterial activity even after using it sixty times and would be very useful as we are facing second wave of COVID-19.
The researchers conclude, "Molybdenum sulfide enable disinfection in sunlight as it absorbs solar light which helps in killing microbes and within five minutes of solar radiation the fabric exhibited hundred percent bacterial killing."