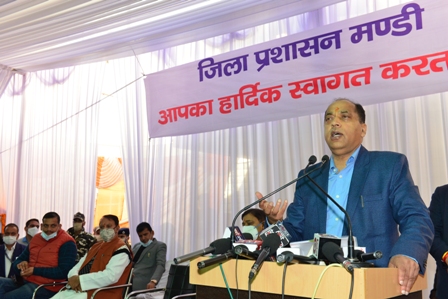 Chief Minister Jai Ram Thakur inaugurated and laid foundation stones of various developmental projects of Rs. 15 crores online in Mandi district during a function held at Mandi on Sunday.
Addressing on this occasion Thakur said, "The state government is determined to develop various towns of the state and have upgraded Palampur, Solan and Mandi as Municipal Corporations to create more facilities and for this the state government had to amend the Act in HP state Assembly as Mandi and Palampur were not having enough population to fulfil the criteria as per 2011 census report."
He said, "This decision would help in developing the towns as more budget would be allocated for development projects by the state and the Central governments; seven new nagar parishads and 387 new gram panchayats have also been created."
Expressing his concern over constant rise in COVID -19 cases in the state, the CM said, "Mandi district is having highest number of active cases today and people should take more precautions during winter months and festival season as this can spread the virus and if situation does not improve the state government may have to take stringent steps to save precious lives."
He said, "The central government has provided 500 ventilators, 500 oxygen concentrators and there is no scarcity of PPE kits, masks and sanitizers in the state".
Thakur said, "The Corona virus has hampered several developmental works but we are making efforts to complete these works to usher in a new era of development and prosperity, besides launching shehari rojgar yojna to help urban poor, becoming the first state in the country to do so."
Jal Shakti Minister Mahender Singh Thakur thanked the Chief Minister for up- gradation of Mandi MC and said the construction works of Nagchala airport and Shivdham would soon begin.
President of the Mandi Nagar Parishad Suman Thakur also thanked the CM for upgrading Mandi MC.
State BJP President Suresh Kashyap, MLA's Anil Sharma, Vinod Kumar, Rakesh Jamwal, Prakash Rana, Jawahar Thakur and Zila Parishad Chairperson Sarla Thakur were among others present on the occasion.
He inaugurated the primary health centre Pandoh and Bhimakali parking at Mandi town to be built through the Asian Development Bank funding to the tune of Rs. 9 crores.
This multi-storied building will have a facility to park 86 vehicles, besides a hall to accommodate 300 people. He also inaugurated Kangnidhar- Dudar Bhraon lift water supply scheme and laid foundation stones of Government primary school Bal Mani (U-block) and to provide FHTC to remaining households in various villages under gram panchayat Tilly Kehanwal and Santardh.