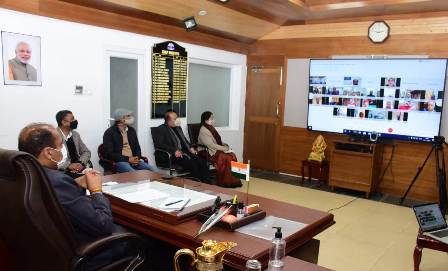 Chief Minister Jai Ram Thakur said, "Media works as a bridge between government and society and has played a very significant role in apprising people about the current situation and encouraging them to do positive activities during the Covid-19 pandemic".
Addressing a webinar on National Press Day on Monday Thakur said, " The COVID-19 pandemic has adversely affected the world economy and the fourth pillar of democracy has been no exception; the biggest causality of the lockdown has been the print media as even the big publication houses were forced to sack their journalists and cut salaries"
He said, "Despite this the media played a significant role during the pandemic in disseminating information; a large number of journalists tested positive for the virus and a few of them lost their lives and digital and print media faced many challenges at ground level as COVID pandemic has been a new experience to the government and media".
Thakur said, "Effective interaction must be ensured between government agencies, media and the public to develop trust as rumours are also being spread on social media due to cut throat competition and urge to break news."
He said, "The state government has made efforts to provide N-95 masks, ventilators and PPE kits and at present 600 ventilators are available in the state and this has provided an opportunity to explore new possibilities."
Chief Minister. "Media played a constructive role by highlighting several steps being taken by the state and central government and providing feedback which helped in brining 2.5 lakh people stranded in different parts of the country."
He said, "The State government was preparing a policy for web media which was underway for proper management of the web portals and even social media can work as a powerful tool to promote well being of society and appealed media persons to maintain credibility in this testing time to earn public faith."
Secretary Information and Public Relations Rajneesh Kumar while welcoming the Chief Minister and other dignitaries in the webinar said it was due to the Covid pandemic that the department decided to hold a webinar to ensure participation of maximum number of journalists.
Several journalists expressed their opinions on this occasion. Director Information and Public Relations Harbans Singh Brascon presented vote of thanks.