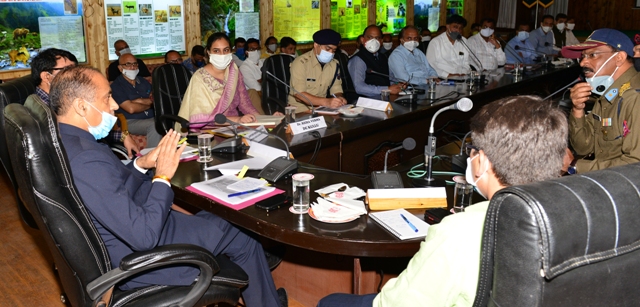 Prime Minister Narender Modi would visit Himachal Pradesh on October 3rd to inaugurate Atal tunnel providing all weather connectivity to Lahaul – Spiti district with Manali.
Reviewing preparation for the visit of the PM at Manali on Thursday Chief Minister Jai Ram Thakur said, "The Prime Minister would be accorded a traditional welcome during his visit to the state and guidelines for standard operating procedure would be followed in view of COVID -19 pandemic".
Thakur said, " Atal Tuunel built under the Rohtang Pass will strengthen the security system of the country as it would provide round the year movement to defence forces and supplies to the Army units stationed in the border areas of Laddakh, besides giving all weather connectivity to the tribal district which remained cut off from rest of the country for more than six months due to heavy snow."
Chief Minister said, "Precautions would be taken to avoid crowding while welcoming the PM and all other necessary arrangements would be made; video screens would also be installed at every district headquarter to enable people to watch the ceremony live."
Earlier, addressing people at Karga Thakur said, " It was due to distant vision of former Prime Minister Atal Bihari Vajpayee the Atal Tunnel at the Rohtang Pass was constructed and this would herald a new era of prosperity in Lahaul – Spiti , besides fulfilling dream of the tribal people ."
Technical Education and Tribal Development Minister Ram Lal Markanda said, "The construction of the tunnel is a historic moment as it would reduce the distance considerably and prove beneficial for the development of the tribal area."
Education Minister Govind Singh Thakur, Chief Secretary Anil Khachi, DGP Sanjay Kundu and other dignitaries were present on the occasion.