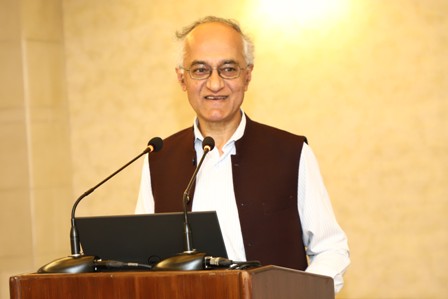 Outgoing director of Indian Institute of Technology (IIT) Mandi Prof. Timothy A Gonsalves, who has recently relinquished the post after a very fruitful tenure of more than ten years since the inception of the institute, in an exclusive interview has explained several pioneering researches undertaken by the institute under his stewardship.
Though every research had a very positive impact in society but the most important breakthrough recently was the development of indigenous material for VLSI photoresist, an essential in microprocessor chip.
Telling about this research Prof. Gonsalves said, "Intel microchips are essentially used in all electronic equipment; in India photoresist was being imported and semiconductor researchers and academic institutions were dependent on global supplies' '.
Taking a challenge to produce photoresist indigenously in India IIT Mandi started working in 2012 and has developed 5 nm node photoresist while globally 10 nm node is used. The major manufacturer of chips HCL Mohali is supplying 180 nm node photoresist to DRDO, Railways etc," he said.
This project was headed by Prof. Kenneth E Gonsalves from North Carolina state university USA and visiting Distinguished Professor in School of Basic Sciences , IIT Mandi . The research team successfully developed a diverse range of photoresist for 20 nm node technology.
The second big technological intervention of the institute has helped nearly five thousand potato growers of Himachal, Punjab and UP under the Farmer's zone project.
Prof. Gonsalves said, "The information regarding weather forecast, location, technique to prevent and cure indo-blight, a disease common in potato crop is being provided to the potato growers by Central Potato Research Institute (CPRI) Shimla, through an app."
"The Farmer's Zone project is proving very helpful to the growers as the App has helped in preventing the disease with advice form CPRI, information about nearby market for the crop, availability of cold stores and IIT envisages 30 to 240 percent potential of growth in the yield," he added.
While the institute has helped farmers of Kamand and other areas of the state through pine-needle – briquetting and Herbal tea projects its another significant research to develop a landslide monitoring system to forewarn people about landslides has also proved helpful in saving lives.
Telling about this research Prof. Gonsalves said, "This device has been installed on fifteen locations, besides Kot Ropi and the state government and DRDO are keen to install the warning system at high altitude roads."
"Through IIT Mandi catalyst programme IIT has provided technology based incubation to start- ups by providing them financial support for marketing their products and improving their skills" , Prof Gonsalves told.
Telling about initiatives taken by IIT Mandi for improving infrastructure in Mandi town, the institute has developed several techniques through ISTP and "Prayas" programmes.
Prof. Gonsalves said, "Four hundred fifty IIT and US students working in this programme have suggested different ways to improve facilities in Mandi town and DC Mandi is very keen to adopt these; basic thrust of all the initiatives is to improve quality of life and modernize roads etc."
"IIT Mandi has always been in the forefront to help local people and through empowering women of Kamand (EWOK) initiative has helped women of Kamand to get employment by improving their skill and developing entrepreneurship. Many of these are working with the institute," he said.
He said, "IIT Mandi has been instrumental in developing N-90 masks made from empty bottles which are in good demand, besides manufacturing sanitizer in its laboratory."
Telling about his future plan Prof Gonsalves said , "I am planning to work for improving quality of education, pursue my academic interest and help industry through technological intervention and work for students who do not get a chance to study in IITs and NITs."