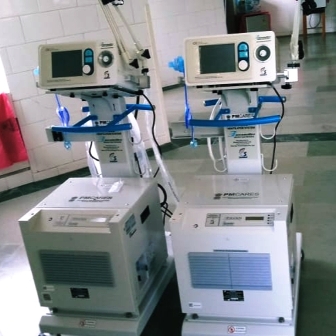 Forty six new ventilators have been provided to different hospitals of Mandi district by the State government.
Giving this information Chief Medical Officer (CMO) Mandi Dr Devinder Sharma said, "The state government has sent forty six ventilators to Mandi district, which would l provide great convenience to COVID patients and other serious patients, besides improving health facilities in the district."
He said, "These ventilators have been given to the state government as a new initiative of the Central government to improve health facilities in states under National Health Mission."
Dr. Sharma said, "Out of these forty six ventilators twenty ventilators have reached Mandi on Saturday and five ventilators are being installed in Regional Hospital Mandi, while fifteen ventilators are being sent to different institutions."
The institutions where these ventilators would be installed include Civil Hospitals Sunder Nagar, Joginder Nagar, Sarkaghat, Karsog, Janjehli, Bagshyad, Gohar, Kotli, Padhar, Sandhol and Dharmapur.
CMO said, "These ventilators would be very helpful for the health benefits of patients suffering from COVID -19 epidemic and other serious diseases since such patients generally suffer from breathing problems."
Apart from this twenty six exclusive ventilators have been approved for Shri Lal Bahadur Shastri Medical College and Hospital Nerchowk, which would reach here soon and would be installed in the hospital.
The Shri Lal Bahadur Shastri Medical College has been designated as one of the s COVID hospitals of the state where COVID – 19 patients from throughout the state are being brought for the treatment.
At present there are ten ventilators in the district out of which seven are installed at Nerchowk Hospital and one each in Mandi, Sundernagar and Jogindernagar.