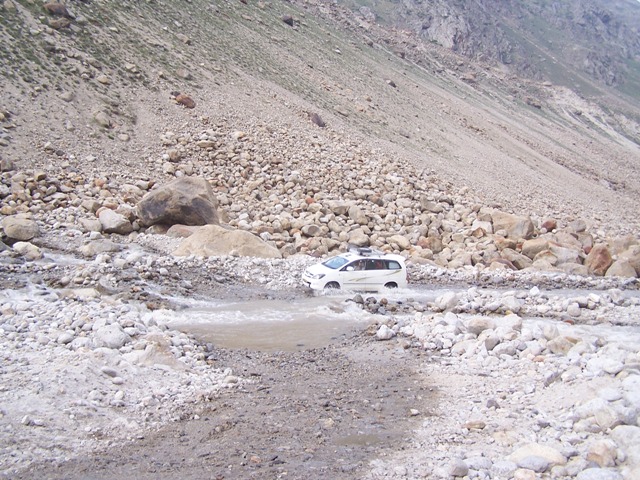 The handing over of Gramphu- Kaza- Samdhoh road from Border Roads Organisation (BRO) to Public Works Department (PWD) has turned into a major controversy between Congress and BJP leaders of Lahaul and Spiti district.
The Central government has taken back maintenance and construction works of this road from the BRO and handed it over to the state government.
Agriculture Minister Dr Ram Lal Markanda is justifying the move saying the Central government has done it to expedite the work while Congress leaders are "smelling rat".
The 160 kms road is of strategic importance as it connects Kaza from Manali and Samdoh from Kinnour side bordering China and also used for taking defence supplies to the Indian Army stationed on the Indo- Tibetan boarder.
The road generally remains opens for six months and major portion up to Kazak is still kucha and was handed over to the BRO in 2011 by Congress government after remaining with PWD for nearly 60 years.
The major concern of a section of residents of Kaza region and Congress leaders is fear of retrenchment of labour force employed with the BRO and delay in completion of widening and tarring on the road.
A group of women activist had stopped the minister from visiting the area and had asked him to undergo 14 days quarantine announced by local residents in the wake of COVID-19 last week; the Kaza police have booked dozens of them and Congress workers staged a dharna at Kaza on Monday.
Former Lahul MLA Ravi Thakur said, "This road was handed over to the BRO in 2011 by the Congress government and the BRO had prepared its DPR and kept the road open during this winter, they are expert in building border roads of strategic importance; more so when the Indian and Chinese Army units stationed on Indo- China border are flexing muscles."
"The move would lead to retrenchment of labourers, hamper widening work and has been done to help contractors close to BJP leaders; local people are opposing the move and I have written to Prime Minister Narender Modi and Union Minister for Roads and Surface Transport Nitin Gadkari to scrap the notification," he added.
Agriculture Minister Dr Ram Lal Markanda said, "The Central government has taken a policy decision to transfer all National Highways (NH) from the BRO to PWD and has already sanctioned Rs 200 crores for NH in tribal areas but certain Congress leaders are playing petty politics."
He said, "Though BRO is building roads on the borders but their construction and establishment cost is too high – while NH agencies builds 13 kms in a day the BRO builds 5 kms; no worker engaged by the BRO would be retrenched."