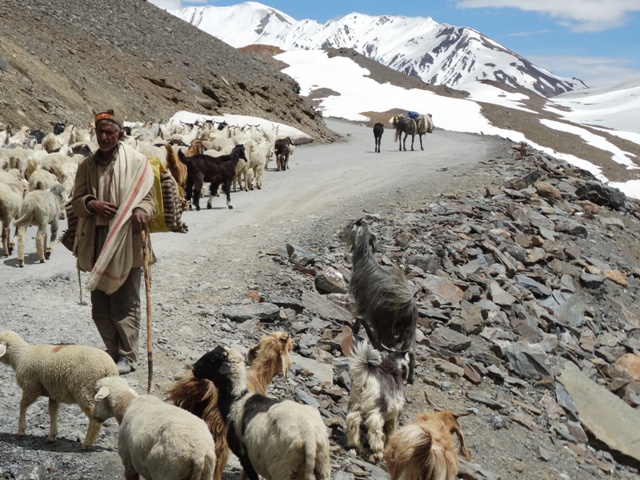 The vehicular traffic on Manali- Leh road was restored on Monday after remaining blocked with heavy snow for more than six months.
The teams of Border Road Task Force (BRTF) have cleared the road of snow from Baralacha pass at 16050 feet and other high passes and opened it for vehicular traffic. The road gets blocked with the beginning of snow season at many places and traffic is suspended in October or November.
This year the road has been opened twenty days earlier as the road was opened last year on June 10 by the teams deployed by the Boarder Roads Organization (BRO), despite difficulty in getting labour due to COVID -19 pandemic and prolonged snowfall seasons.
The unique feature this year has been deployment of remote controlled cutters and dozers by the BRO teams to clear snow from the high passes. Chief Engineer of the BRO Brig. MS Baghi has himself been monitoring clearance of the road this year and visiting boarder areas.
Four hundred eighty five kilometers long road, passing through high mountains and high altitudes have several glaciers like Baralacha and highest Tang-Lang- La pass on the way.
This road is of immense strategic importance and provides border link with Leh bordering China. The road is also popular with adventure tourists as a large number of them travel on the road on motor-bikes and other vehicles for adventure.
The Manali – Leh road is an alternative route to transport Army supplies for the Indian Army stationed in Leh as other road passing through Jammu – Kashmir crosses through the Zozila pass, which also remains blocked with heavy snow during winters and become slushy during summers and rainy season.
The Army authorities always look forward for early clearing of this road since they replenish essential items like diesel, petrol, ration etc for next winter from plains for the Army units stationed on the China border.
The Commander of BRTF Colonel Uma Shankar said, "Our teams have opened the road by working in very hostile weather conditions and it was opened on Monday but is still slippery at many places after fresh snowfall".
The Lahaul – Spiti district administration has allowed passing of oil tankers on the road.