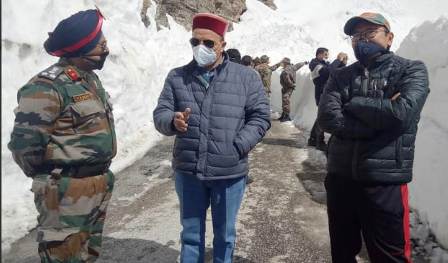 In a big relief to tribal people of Lahual – Spiti district, the Boarder Roads Organization (BRO) teams have opened the Rohtang pass on Manali- Leh road after its closure in last November due to heavy snowfall.
The pass at 13050 feet was cleared of snow on Sunday evening after almost six months with the untiring efforts of the BRO teams.
BRO Commander Col. Uma Shankar said, "The snow from the Rohtang pass was cleared on Sunday and small vehicles crossed the pass."
He said , " We have opened the pass early this year despite heavy snowfall which continued till last week months and our two teams worked very hard in harsh weather condition working under sub-zero temperature."
Two teams of the BRO were working from both side of the Rohtang pass and connected the pass from both ends.
The Manali- Keylong road is only road link to Lahaul – Spiti district and also provides strategic road link to Leh and is used to take defence supplies to Armed forces stationed at the China boarder.
The completion of the Rohtang tunnel is in the final stage and is likely to be made operational this year providing round the year connectivity on this road.
The opening of the Rohtang pass is a big relief to thousands of residents of the Lahual – Spiti, who were stuck up in Kullu – Manali areas due to blockade of the pass.
Thousands of residents migrate every year before onset of winters in their second homes in Kullu district to escape harsh winters and return back to their homes in Lahaul – Spiti district as sowing season begins in the month of March in the tribal areas.
Lahaul – Spiti is known for cash crops of quality peas, potatoes and other vegetables and fruits, which is main source of income of a large population, and sowing season has already begun.
The return back of thousands of residents living in Kullu area was delayed this year due to prolonged winter and heavy snowfall hampering opening of the Rohtang pass at 13050 feet, which blocks the main road link between Manali and Lahaul district.
Agriculture Minister Dr Ram Lal Markanda , who is MLA from Lahaul – Spiti have been taking up issue of opening of the Rohtang pass with the BRO authorities and had inspected the work on Saturday along with Chief Engineer of the BRO MS Maghi.