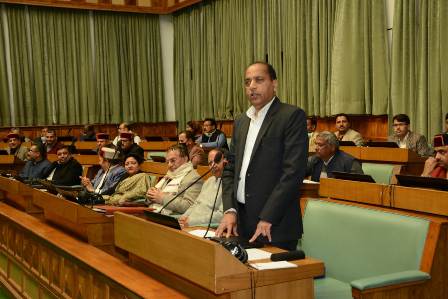 Himachal Pradesh government has announced total lockdown in the state with immediate effect, i.e. March 23 to meet the challenge of corona virus in the state till further orders.
Making a statement to this effect in Himachal Pradesh State Assembly on Monday on the floor of the house, Chief Minister Jai Ram Thakur said, "We have already taken steps like closing educational institutions, restricting movement of people, putting ban on organizing fairs, festivals, religious and social gathering, banning entry of Indian and foreign tourist in the state, besides restricting movement of vehicular traffic, which has shown results."
CM said, "Keeping in view the present situation at national level and in different states the medical experts have suggested to extend the restrictions further on social activities to maintain social distancing would be very beneficial and any delay in this regard can cause damage; therefore I inform the house partial lockdown in the state."
"The state government has issued ordered to implement the same restrictions as in Kangra district, throughout the state with immediate effect."
He has appealed people of the state to follow the directions given in the advisory in letter and spirit for keeping them safe against the pandemic.
CM has assured, "There is no need of any panic and government is committed to work for the welfare of people and these efforts would bear fruits."
Meanwhile a notification by Chief Secretary Anil Khachi on Monday imposed following restrictions in the state, "The government exercising powers conferred under Himachal Pradesh Epidemic Disease (COVID- 19) Regulations – 2020, Himachal Pradesh government notifies lockdown in all territories till further orders."
As per notification , " All interstate movement of public, private and contract carriage including taxies , auto rickshaws etc have been prohibited, total ban on plying of trains and commercial aircrafts and only vehicles involved in essential services like hospital , goods carrier and private vehicles in emergency cases would be allowed ."
" All shops , commercial establishment, factories , workshops , godowns etc shall close their operations except shops selling grocery , milk, bread , fruit, vegetables and meat, besides chemist, drug stores and other essential items ".
Essential services like hospital, petrol pumps, and gas agencies etc would remain operational during this period.