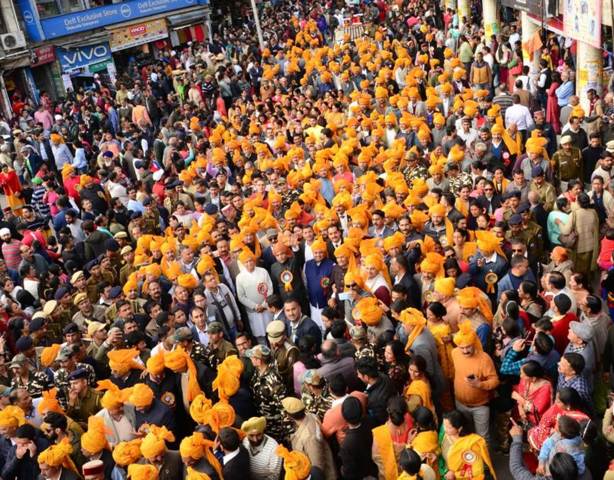 The weeklong historical international shivratri festival began on Saturday with a colourful jaleb (procession), starting from Madho Rai temple to Paddal ground.
Hundreds of deities carried by kardars on their shoulders accompanied by drummers and dancing devotees marched from Madho Rai temple to the festival ground. Principal deity of the shivratri festival lord Madho Rai was carried in a palanquin.
Chief Minister Jai Ram Thakur wearing a colourful turban, joined by his cabinet colleague Mahender Singh Thakur, all MLAs from Mandi district and a large number of other dignitaries wearing traditional turbans participated in the jaleb. A contingent of police and tableaus of army, health, horticulture and other departments, besides police and home guards' bands also participated in the procession.
Earlier, Chief Minister paid obeisance in the Madho Rai temple and carried traditional worship before participating in the jaleb.
CM formally inaugurated the weeklong shivratri festival at Paddal ground.
Addressing the gathering after inaugurating the shivratri festival Thakur said, "It is very important to preserve our traditional culture as only those societies perform better who respect and love their culture"
He said, "Mandi Shivratri reflects the deep faith of the people in the deity culture and the festival provides them an opportunity to pay obeisance and for socialisation, besides being a major trade fair."
Thakur said, "In the present time people have little time to participate in fairs which is a matter of concern and efforts should be made to promoteA participation in such events."
The festival is basically a congregation of local deities of Mandi district as nearly two hundred deities accompanied by their kardars; pujaris and devotees attend the festival every year and stay here for a week. Being a famous festival of the region lakhs of devotees make a beeline to attend this festival.