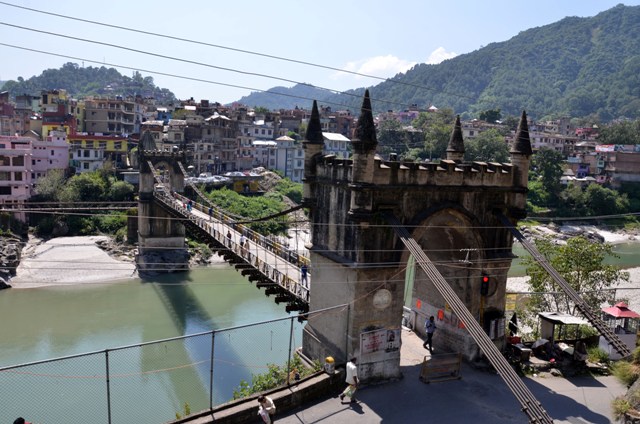 While heartfelt adieu to people retiring from a government job or from a profession by paying tribute to their services or contribution is a common practice but in a rare gesture of gratitude to acknowledge services given by a Bridge for 142 years, the people of Mandi paid tribute to Victoria Bridge.
 The historic Victoria Bridge, which has been a witness to long history of nearly one and a half century, is not in use for vehicular traffic after December 8, 2019 when a new bridge for traffic was opened by Chief Minister Jai Ram Thakur, adjacent to the old bridge on the river Beas.
One of the oldest bridges in this region, the Victoria Bridge was constructed in 1877 by erstwhile ruler of Mandi estate Vijay Sen to connect old Mandi area with the town by spending nearly a lakh of rupees. In fact the life of this bridge was estimated to be one hundred years but it is going strong after 142 years.
The seventy six meters long suspension bridge raised on twelve thick iron ropes was connected with huge iron pillars on both edges of roads. Engineering experts say, "The Victoria Bridge was raised on pattern of the Victoria Bridge in Bath, England and designers and engineers from England and Calcutta (Kolkata) were engaged for the construction."
A unique marvel of engineering and artistry, built during the 18th century it is one of its kind. It is said Vijay Sen took initiative for constructing the bridge to take his new car to Mandi town as there was no link to crossover the river.
Deep angle anchoring was undertaken in the rocks on both sides to give the ropes strength and it is said the iron ropes were made by heating these in German furnaces.
To express their gratitude to the bridge the Mandi chapter of culture and district administration organized a function at the bridge recently. The bridge was decorated with flowers and garlands and a grand function was held in which large number of Mandi residents joined to pay their tributes.
Naresh Malhotra, president of the organization said, "In old times this bridge provided only link with Joginder Nagar- Pathankot road and people coming from surrounding areas including heavy traffic used to pass the bridge to reach Mandi town and residents really owe a gratitude to the bridge."
DC Mandi Rugved Thakur said after opening of a new bridge here the Victoria Bridge would be preserved as a historical monument and developed as a tourist spot and now would be used by pedestrians only.