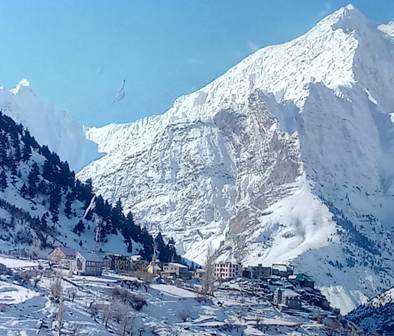 When people of Lahaul – Spiti district are experiencing harsh winter this year with entire region wrapped under a thick blanket of snow the spirit to celebrate their traditional annual festival Halda has not dampened down in any way.
Many areas of the tribal district celebrated a month long festival beginning in the month of January. The festival continues for a month and people in different valleys of the district celebrate the festival.
The festival is another form of Deepawali, which was celebrated in Pattan, Chandra and Gahar valleys with fervor and gaiety on different days at different places.
For celebrating the festival the villagers collect branches of cedar tree and sharpen these to make a bundle called Halda, which is burnt in houses to bring prosperity in the family.
A local resident Neel Chand Vidyarthi tells, "The wooden sticks equal to male family members are collected and then burnt after performing religious ceremonies and paying obeisance to the deities; the villagers also gather in the house when Halda is burnt and join the celebration followed by a feast and folk dance."
"In fact the festival is celebrated to worship local deities to seek their blessings for better crop and protecting them from ill effects of evil spirits; moreover the festival gives us opportunity to keep our folk tradition alive and rejoice," he adds.
The residents also find this an opportunity for merry making as the people do not have much to do in the freezing temperature with snow every where. The tribal areas remain cutoff from rest the country for almost six months as roads are blocked with heavy snow.