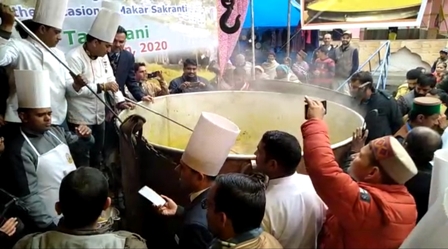 The Himachal Pradesh Tourism and Civil Aviation Department has created a world record of preparing the largest serving of Khichadi from beans and rice wieigieng 1995 kilograms at a time in a single utensil and has found a place in the Guinness' book of world records.
The serving of Khichadi was prepared by the special cooks engaged by the department to celebrate the festival of makkar -sakranti at Tattapani in Mandi district of Himachal Pradesh.
The certificate for this world record was handed over to Chief Minister Jai Ram Thakur at Tattapani on Tuesday. The earlier record under this category was for preparation of 918. 8 kilograms khichadi in one go.
Chief Minister has appreciated the effort of the department for succeeding in their mission of cooking such large volume of Khichadi and for breaking earlier record setup in this category, by a margin of about 1000 kg. He has also announced to honor the cooks.
The Khichadi prepared by the department was served to people gathered to celebrate makkar – sankranti at Tattapani. A large number of devotees gather every year at Tatttapani in Mandi district to take holy dip in hot springs.
Director of tourism and Civil Aviation Yunus Khan said, "The utensil used for cooking the Khichadi having a radius of 7×4 feet in radius weighing 650 kilograms was especially procured form Haryana and we engaged specialized cooks and this attempt has been aimed at bringing Tattapani on world tourism map."
Adjudicator of the Guinness World Record closely watched the preparation of Khichadi at Tattapani and announced after the preparation that the department of tourism and civil aviation has set a World record by cooking 1995 kg Khichadi in a single utensil.