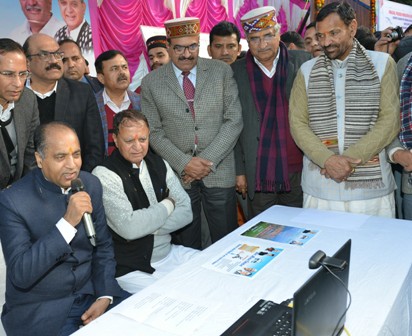 Chief Minister on Friday launched Jal Jeevan Mission online for the state during his one day tour of Dharampur Assembly segment in Mandi district.
He also interacted through video conference with the beneficiaries on this occasion and said this was one of the major ambitious programmes of Prime Minister Narendra Modi which would cover Thunag in Mandi, Koti in Shimla, Tissa in Chamba and Jhandutta in Bilaspur districts of the state to provide uninterrupted tapped water to every household.
He said Jal Jeevan Mission would go a long way in solving water problem by spending over Rs 3200 crore and prove a boon for people.
Addressing a public meeting at Tihra, Thakur said, "The present state government during the last two years has ensured the state becomes front runner in field of development and a role model for other states".
Chief Minister said, "I have visited every nook and corner of the state during last two years and ensured every area gets its due in matter of development and soon after taking reins of the State Government I decided to lower the age limit for availing benefit of social security pension without income limit from 80 years to 70 years, thereby benefitting lakhs of old persons and many old persons have written him personally for thanking him for this Initiative."
CM said as many as 1, 36,000 families of the state have been benefited from the Ujjwala scheme of the Central Government and under the Himachal Grihini Suvidha Yojna more than 2.65 lakh families have been benefited and Himachal has emerged as first state of the country with every household having a gas connection.
He announced to open a modern Industrial Training Institute (ITI) at Baroti in Dharampur Assembly constituency of Mandi district from next session to provide job oriented education.
While addressing a gathering at Baroti on Friday after laying foundation stones of development projects of nearly Rs 270 crores in the Assembly segment on Friday Thakur supported CAA saying "The amendment of act shows strong commitment of the Central government towards the issue but Congress and opposition leaders are trying to politicizing and mislead people."
Jai Ram Thakur said, "The opposition leaders were even questioning the Global Investors Meet organised by the state governmen reminding them they travelled throughout the country and outside India to attract investments but failed miserably, while the present government has succeeded in signing MoUs of nearly Rs one lakh crore."