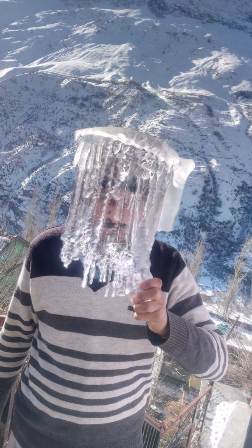 As the cold wave in north India has become severe the people living in the tribal district of Lahual – Spiti are braving the extreme weather conditions. The temperatures at Keylong, the district headquarter of Lahaul – Spiti has plummeted to a new low as the night temperature on Saturday was recorded -24 degrees Celsius.
It is after so many years the residents are experiencing so low temperature and eatables like mustard oil in the bottles have frozen.
The only solace for the residents is that the electricity supply and mobile connectivity are functioning normally but frozen water pipes are giving them really tough time.
Majority of local residents generally migrate to Manali or Kullu during the winter months and at present many HP government employees are staying back and providing their services in the district.
A government employee talking on his mobile phone from Keylong said, "The life for people living here is very tough as water pipes have frozen and getting water supply is very difficult, sewerage lines have chocked and we are hardly getting supply of fresh vegetables, even tomatoes and potatoes have become scarce."
Shiv Ram a local employee said ,"Since snowfall had started in November this year in the tribal areas the winter is very severe this season and temperature is showing new lows everyday the mobility in many areas have become very difficult as roads have become very slippery."
The biggest problem the local residents are facing is mobility to Manali – Kullu as the district has been cut-off from rest of the country with blockage of the Rohtang pass with heavy snowfall and routine traffic has not been allowed through the all weather Atal tunnel, which is in final stage of completion.
A local leader Rinzin Harriappa said, "The state government has still not started regular chopper service to the tribal district and it is very difficult to move out from the district even in medical or other emergencies."
He has urged the state government to start regular chopper flight to Lahaul – Spiti.