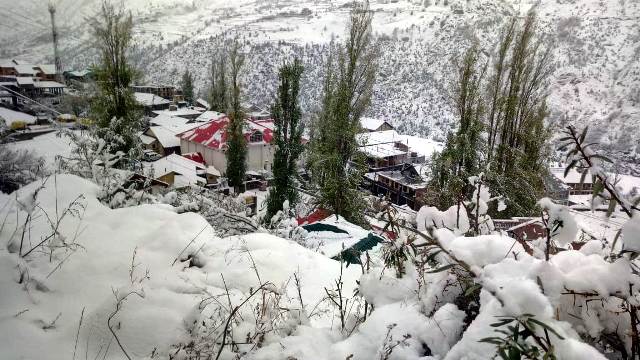 In a major relief to tribal inhabitants of Lahaul – Spiti, the Border Roads Organization (BRO) authorities have allowed one Himachal Road Transportation (HRTC) run bus daily from Manali to Keylong through incomplete Rohtang tunnel during the winter season.
The Lahaul- Spiti administration had closed the traffic on Manali – Keylong road as per official schedule on November 15 by issuing a notification. The BRO unit maintaining Manali- Leh road had opened the Rohtang pass situated at 13050 feet for the last time before the official winter closure a few days back.
Since the fresh snowfall had snapped road connection to the district with rest of the country the residents had been demanding to allow HRTC buses and private vehicle through the tunnel, which is yet to be completed.
The heavy snowfall on the Rohtang pass is a major hurdle in passing through vehicular traffic on Manali- Keylong road and many locals have been crossing the pass on foot endangering their lives. Many patients, government employees and others wait for the state government to run its chopper service for the tribal areas.
Agriculture Minister Dr Ram Lal Markanda, who represents Lahaul- Spiti in the HP Vidhan Sabha, had been taking up this demand with the BRO authorities.
The construction of 8.8 kilometers Rohtang tunnel is in final stage and it was proposed to be completed by December 25th this year but delayed.
The Rohtang pass is opened in April or May by the BRO depending on the weather condition as they have to remove huge mounds of snow to restore traffic on the road.
Deputy Commissioner Lahaul – Spiti K K Saroch said , " The BRO Chief Engineer has permitted plying of one HRTC bus daily through the Rohtang tunnel but no private vehicle would be allowed ."