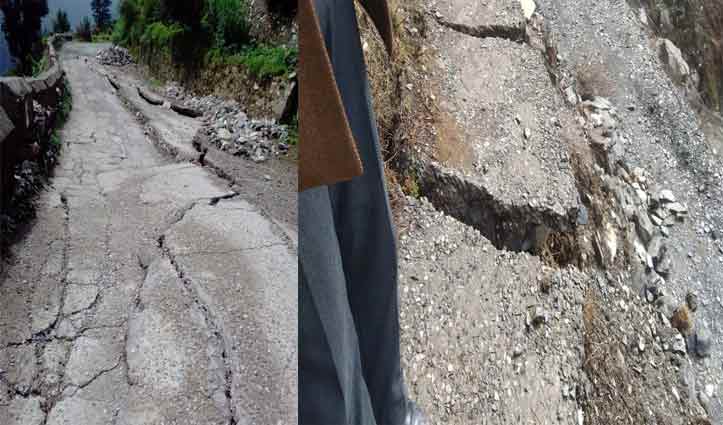 The incessant rains during the party 24 hours in several parts of Mandi and Kullu districts have wreaked havoc with flash floods damaging roads leading to disruption in vehicular traffic affecting normal life.
The most affected has been Kullu district where about one kilometer long Shiut – Kamtan- Bhatkanda road has been washed away in Banjar sub-division. The rain water also entered apple orchards, houses and fields of people leading to losses.
Panchayat samiti member of Raila Pratibha Palsara has said, "Ghat, Majgra, Shoran, Sarghat, Kamtan etc have been affected by the flash floods and washing away of motorable road has added to woes of the residents."
She has also urged the administration to repair the road and help them in make arrangement for supply of essential commodities and transport apple, vegetable and other crops from the area. .
In Sainj valley of Kullu district about a dozen vehicles were trapped on Tuesday night after water level at Pagal Nallah rose suddenly and road was closed. However no loss of life has been reported from anywhere.
The district administration has been making efforts to restore traffic on all damaged roads and supply essential commodities in the affected areas.
Similarly, in Mandi district rain has caused landslides at many places. Landslide on Pathankot- Mandi road on Tuesday night blocked the vehicular traffic on the road leading to long queue of vehicles on both sides of the roads. The Chail –Chowk – Janjehli road was also blocked near Chail- Chowk due a landslide disrupting traffic.
The public works department has restored traffic on both the roads by clearing the muck.