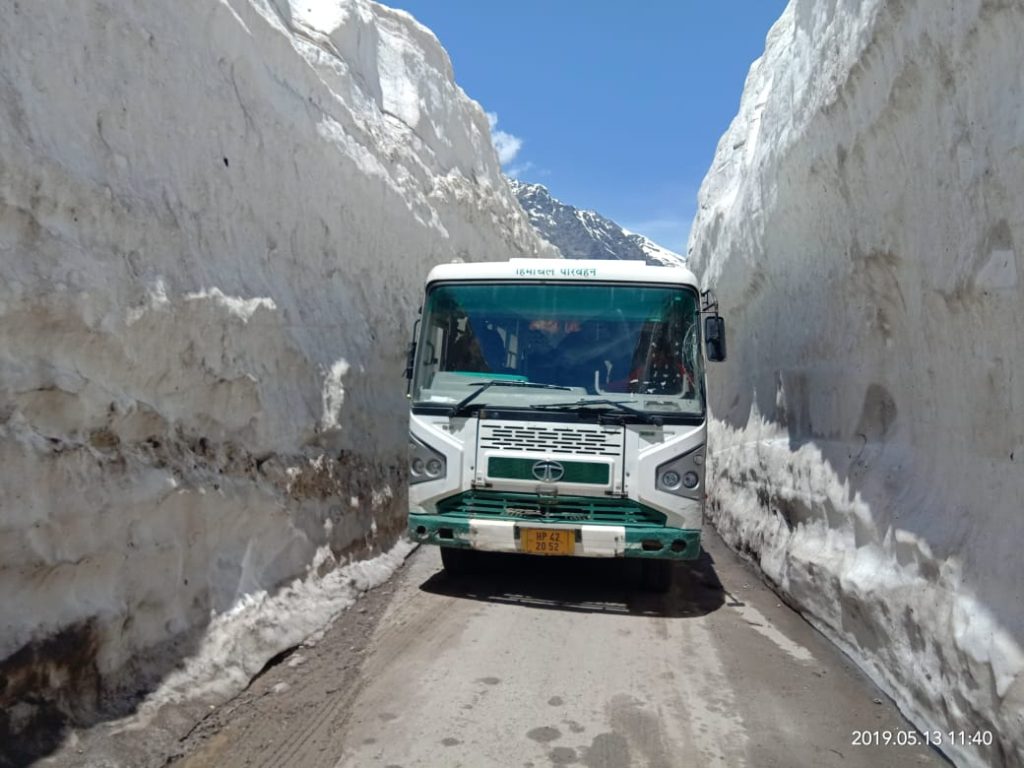 The Himachal Road Transport Corporation (HRTC) has resumed its bus service from Keylong to Kullu- Manali after remaining closed for more than six months during winter season.
The Deputy Commissioner Lahaul- Spiti Dr Ashwani Chaudhary flagged off two buses of Himachal Road Transport Corporation (HRTC) on Keylong – Manali – Kullu route on Wednesday morning.
This is a big relief to residents of the district and people living in Kullu – Manali as the bus service has been resumed almost after six months when the HRTC had withdrawn its bus service in the November last.
The vehicular traffic on this rout was abandoned after heavy snowfall on the Rohtang pass at 13050 ft had blocked the road.
The HRTC has started two buses each on this route to – and fro between Keylong and Kullu.
In the absence of the HRTC bus service the residents of the district rely on state government run chopper service in emergencies. On the insistence of the district administration the Border Roads Organization (BRO) authorities have been allowing limited access through the Rohtang tunnel as construction work of tunnel is yet to be completed.
The Regional Manager HRTC Mangal Singh Maneyapa said, "We have resumed bus service on Key long – Kullu rout after clearance of the Rohtang tunnel and bus service was flagged off by DC Lahaul – Spiti on Wednesday at 6 am from Keylong."
The bus service was started after the BRO had opened the Rohtang pass to allow passing of small vehicles through the pass on May 19 and two days later for heavy vehicles.
The pass was opened by the BRO work force at 2 am on Sunday to enable voters stuck at Manali and Kullu for many months to vote in parliament election in Lahaul – Spiti.
The Rohtang pass situated at 13050 ft, was closed for winter after heavy snowfall in November last and remained blocked for about six months. The main road link to Lahaul – Spiti passes through the Rohtang pass from Manali and vehicular traffic on the road was snapped since then and the HRTC had withdrawn its service on the route.
The BRO made special effort to open the pass working overtime on the polling day. An official of the BRO said, "We had to cut heavy frozen snow on the passes and glaciers ranging from 5ft to 35 ft and our workmen have opened the pass working in very harsh conditions."