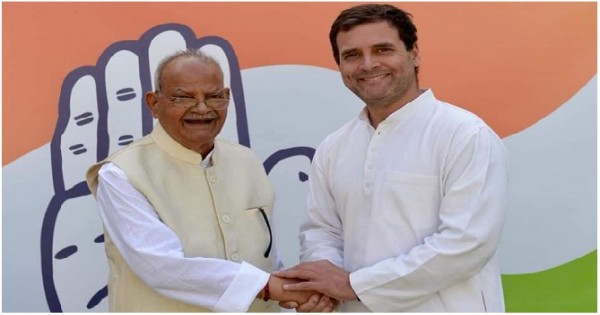 In a big jolt to the Himachal Pradesh BJP, former Union Telecom Minister Sukh Ram and his grandson Ashray Sharma joined the Congress in New Delhi in the presence of All India Congress Committee (AICC) president Rahul Gandhi.
Sukh Ram , a veteran of Himachal politics, who had been changing sides after his conviction in a corruption case pertaining to his tenure as telecommunication minister in PV Narsimha Rao government , had joined BJP along with his son Anil Sharma , a cabinet minister in previous Congress government headed by Virbhadra Singh, before the last Assembly election in 2017. Anil Sharma is a cabinet minister in Jai Ram Thakur led present BJP government in the state too.
Sukh Ram, who had been demanding BJP ticket for Mandi parliamentary constituency for his grandson, son of Anil Sharma, was in touch with the top leadership of the Congress for quite some time and formerly joined the Congress on Monday, after BJP had re- nominated sitting MP Ram Swaroop Sharma as the BJP candidate from Mandi for the ensuing parliament election.
There is likelihood of Ashray Sharma being considered for the Congress candidate from Mandi Lok Sabha constituency, as the former Himachal chief Minister Virbhadra Singh and his family and senior state leader Kaul Singh Thakur, considered formidable candidates from this seat, have reportedly shown their reluctance to contest the election.
Anil Sharma a cabinet minister in the incumbent BJP government in Himachal would also be under pressure to resign from the cabinet and is reportedly likely to join the Congress soon.
State In-charge of Himachal Rajni Patil, HPCC president Kuldeep Rathor and CLP leader Mukesh Agnihotri were present on this occasion in New Delhi.
(This story was carried in Daily Post on March 26, 2019)