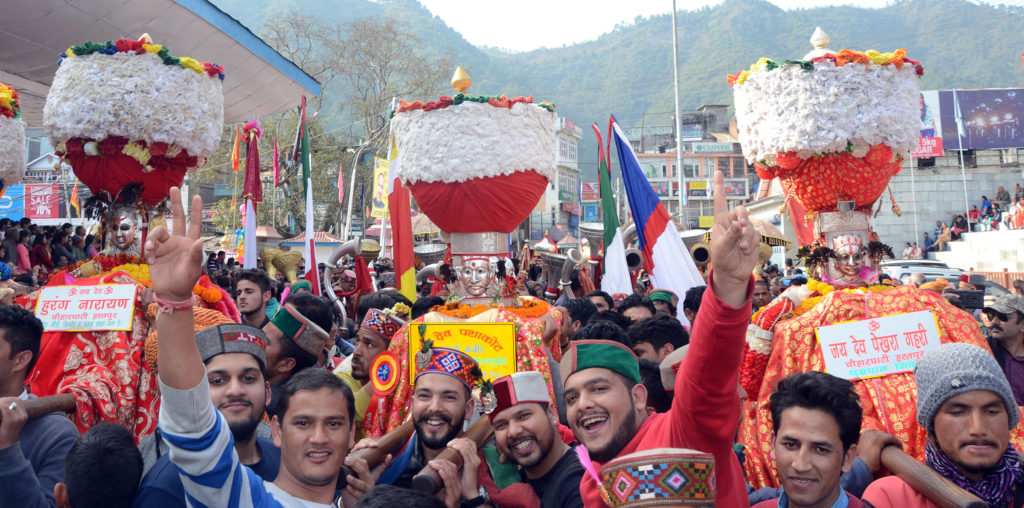 The weeklong Shivratri festival of Mandi, which began here on March 5th this year, is a famous religious and cultural celebration of this region. Though the festival was formally inaugurated by Chief Minister of Himachal Pradesh Jai Ram Thakur, the ceremonies of the festival had started much before with the arrival of deities and their Kardars (permanent staff) in the town.
The arrival of the principal deity of the festival Bada Deo Kamrunag and worship in Bhoot Nath temple on Mahashivratri day every year commence the religious ceremonies of the festival.
The Shivratri festival, a tradition started by erstwhile rulers of Mandi estate, is being celebrated here for many centuries. People of Mandi district in particular and Himachal in general wait with keen enthusiasm for the festival to begin. The administration also decks up and illuminates all government buildings, bazaars and famous temples.
The shivratri festival is basically a gathering of deities, who arrive here on annual sojourn and a large number of people having deep faith in the deity culture pay obeisance to hundreds of gods and goddesses. As the deities carried in palanquins start reaching Mandi accompanied by their worshippers, drummers and pipers the whole atmosphere becomes festive. As many as 216 deities are participating this year in the festival.
The Shivratri festival committee headed by Deputy Commissioner Mandi makes arrangement for boarding and lodging at earmarked places where the deities and people accompanying them stay during the festival. For the next seven days the deities carried in palanquins assemble daily at Paddal ground where thousands of devotees pay obeisance.
Three shobhayatras ( religious processions ), called jalebs in local parlance are the main attraction of the festival in which deities carried in palanquins, their worshippers dancing on the tunes of drums, contingents of police and a large number of dignitaries wearing turbans and locals participate. A large crowd throng to watch the spectacular jalebs.
A trade fair is also organized at Paddal ground during the festival and hundreds of shopkeepers from many parts of north India come here every year to sell their goods and thousands of people visit the Paddal ground daily. Sports competitions and several other activities are also organized during the festival.
The festival committee also organizes cultural evenings during all seven days of the Shivratri festival, where Bollywood artists are invited to perform. This year the committee has decided to reduce two cultural evenings and donate the money to the families of CRPF Jawans killed in Pulwama terrorist attack and a special evening would also be devoted to them.