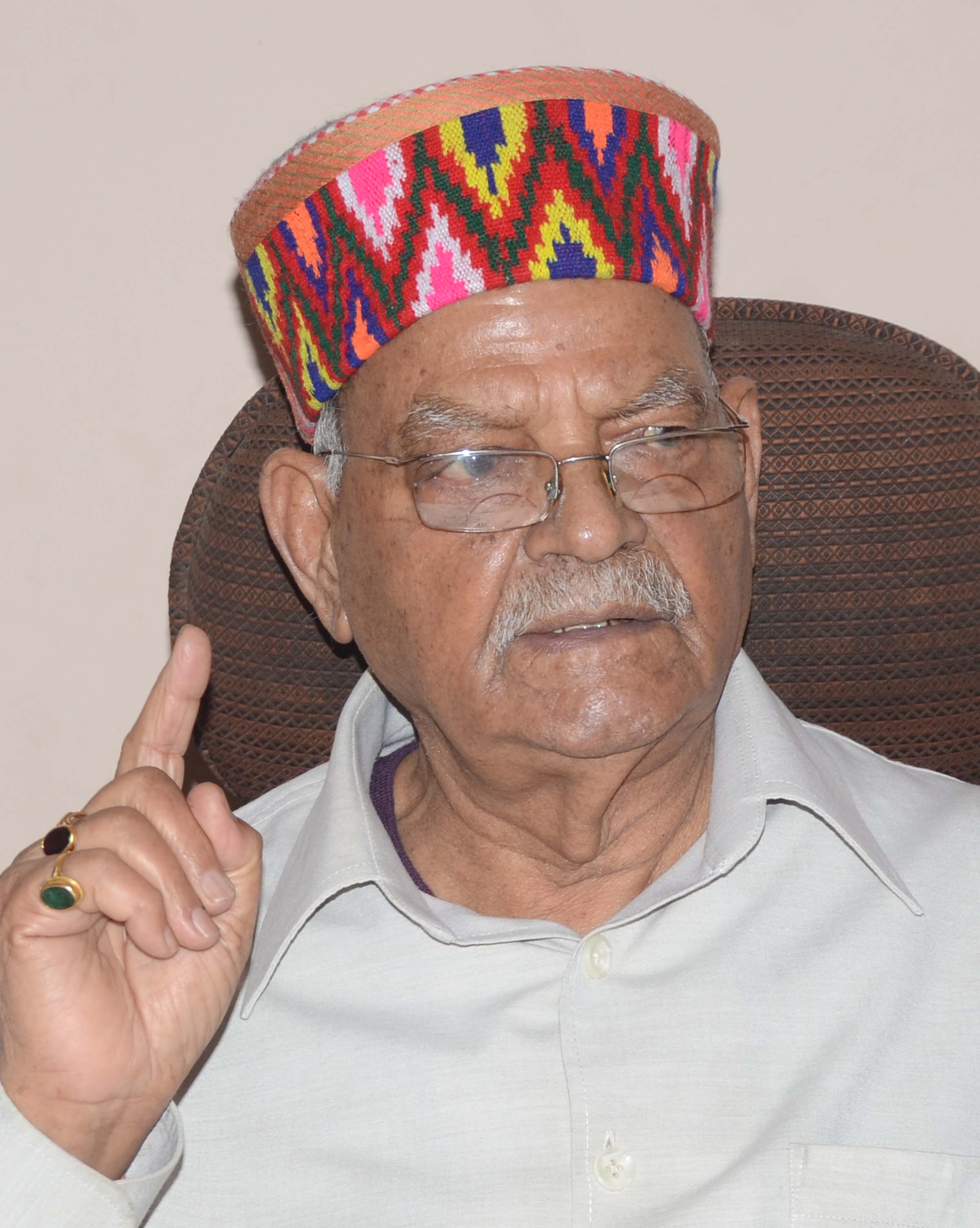 ( Ram Swaroop Sharma, MP Mandi)
Dharam Prakash Gupta
Though Ram Swaroop Sharma, the sitting Member of Parliament (MP) representing Mandi constituency is quite confident of his re-nomination by the BJP High Command in 2019 Parliament election, however demand of BJP ticket for his grandson Ashray Sharma by the veteran leader and former Union Minister Sukh Ram can't be brushed aside so lightly .
Sukh Ram, living in political oblivion for quite some time after his conviction by a Delhi court for the alleged corruption charges pertaining to his tenure as a Union Telecommunication Minister, had suddenly come to limelight during the last Assembly election in Himachal Pradesh, when he along with his son Anil Sharma, a cabinet minister in Virbhadra Singh government, had deserted the Congress and joined the BJP. Anil Sharma has been made a cabinet minister in the present Jai Ram led BJP government too.
For the past few months Sukh Ram had been demanding the BJP ticket for his grandson Ashray Sharma, son of Anil Sharma, from Mandi Parliament seat for the next parliament election in 2019.
There is no report of replacement of BJP's sitting MP Ram Swaroop Sharma ,who had proved a giant killer by defeating Congress candidate Pratibha Singh wife of then Chief Minister Virbhadra Singh by a convincing margin of over 39000 votes in the 2014 Parliament election.
The BJP has consolidated its position in Mandi district after the last Assembly elections by winning nine out of ten Assembly seats and installation of Jai Ram Thakur as Chief Minister of the state.
Sharma, an organizational leader of the BJP, has strong backing of the BJP leadership and even the Union Home Minister Raj Nath Singh during a conference of Panna Pramukhs of the party at the Paddal on November 28 ground and the state BJP president Sat Pal Singh, had sought support for Ram Swaroop Sharma, indicating his re-nomination as BJP candidate from here.
After this announcement, Sukh Ram reaffirming his demand for the ticket had clarified, "The BJP ticket for Mandi Parliament seat would be cleared by the parliamentary board of the BJP and the issue of BJP's nomination from Mandi is still open and criticized the BJP president". The BJP president had to clarify, "the party tickets have not been decided yet and the party nomination would be decided by the BJP High Command."
Claiming credit for the BJP's win in the last Assembly election Sukh Ram is promising BJP's victory in all four parliament seats through his campaign and mass base, in return of the BJP ticket for his grandson.
Sukh Ram, the veteran politician had enjoyed power for several decades in various Congress governments in Himachal and in the Central government and has a strong mass base in Mandi Parliament constituency as he had nursed the constituency very well as MP and Union Telecommunication Minister.
Nonagenarian, Sukh Ram's demand of BJP ticket is aimed to provide a launching pad for his grandson Ashray Sharma, son of Anil Sharma.
Sukh Ram enjoys good clout with the BJP leadership in New Delhi and is a veteran of political maneuvering, which is making Sharma and his supporters wary of his moves.