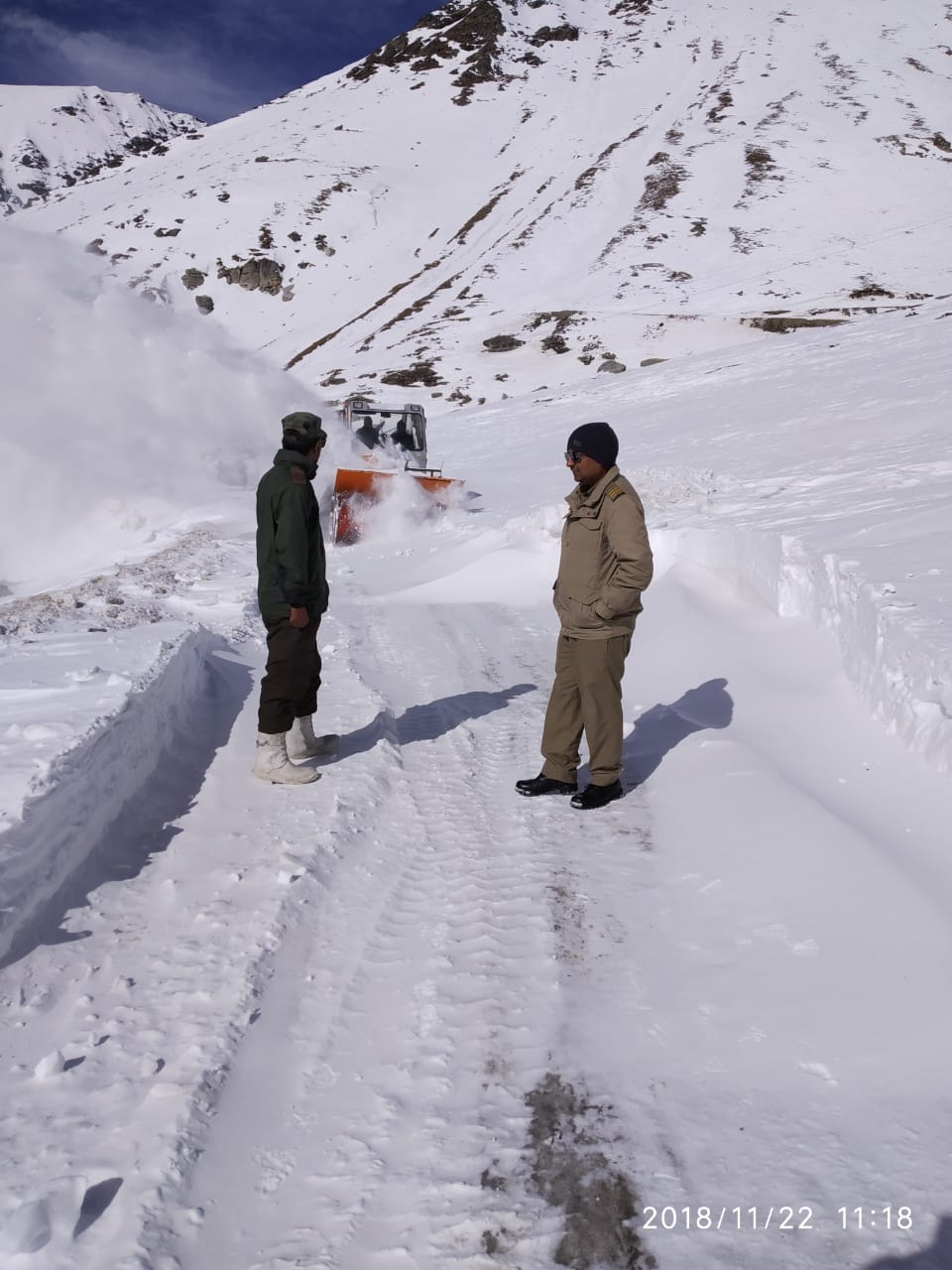 BRO men help in clearing snow at  The Rohtang Pass
Dharam Prakash Gupta
The Manali – Keylong road, the life line of Lahaul and Spiti tribal district was cleared of snow at the Rohtang Pass and vehicular traffic on this road was restored on Friday.
The team of Border Roads Organization (BRO), working in adverse conditions with temperature dipping under minus 10 degrees cleared the snow from the Pass with the help of snow cutters. The BRO had removed its men and machinery on November 13 from the Pass situated at 1305 feet after a heavy snowfall, after clearing the Pass and had announced the Pass would be opened only after the winter.
A large number of tribal people keen to travel between Manali – Keylong and beyond had been demanding opening of the Pass or allow traffic through the underground Rohtang tunnel, completion work on which is still going on. Some residents had even tried to forcibly cross the tunnel ignoring safety concern and were evacuated by security forces two days back.
Bowing to pubic pressure and persuasion of district administration the BRO had started clearing snow from the Rohtang Pass on Wednesday and road was cleared for the traffic on Friday.
The BRO Commander Col. Awasthi said , " Working in adverse condition our men cleared snow on Manali to Darcha road including the Rohtang Pass at 1.30 PM on Friday and restored one way traffic, all type of vehicles have been allowed on this road."
The BRO authorities have asked the people to avoid travelling on this road in mornings and evenings and said one way traffic would be allowed till the road is completely restored for the traffic.